#include "proxy_interface.h"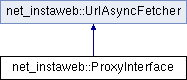 static void 
InitStats (StringPiece stats_prefix, Statistics *statistics)
 
Initializes statistics variables associated with this class.

 
static const char 
kCacheHtmlRequestCount []
 
static const int64 
kUnspecifiedTimeout
 
TODO(sligocki): Rename as per style-guide.
All requests use this interface. We decide internally whether the request is a pagespeed resource, HTML page to be rewritten or another resource to be proxied directly.
Implements net_instaweb::UrlAsyncFetcher.
Needed by subclasses when overriding InitiatePropertyCacheLookup.
thread-safe, unowned
---
The documentation for this class was generated from the following file: